Presented by: Isaac Theatre Royal, The Court Theatre & SGCNZ
Ben Crystal's Original Shakespeare
17 May 2017
---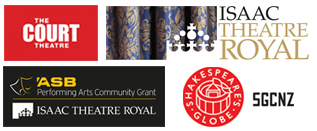 UK Actor/Writer/Producer, Ben Crystal, has with his father, David, specialised in Original Pronunciation of Shakespeare. Together they have performed staged readings of Macbeth, Henry V, and Dr Faustus at the Sam Wanamaker Playhouse, Shakespeare's Globe, and produced minimal rehearsal, cue-script rehearsed sold-out limited-runs of these plays in full production at a Wanamaker-like Loft in London.
For the first time, Ben is coming to New Zealand to share their extensive studies and experience through performance. His very full schedule of a month of talks, workshops and performances, organised by Shakespeare Globe Centre NZ (SGCNZ), begins with two alks generously hosted by the Isaac Theatre Royal, in association with The Court Theatre, on Wednesday 17 May.
The first, from 6-7pm, Shakespeare on Toast, is less of a talk and more of a performance. Ben makes sense of Shakespeare by putting him back into context. This includes an exploration of Elizabethan theatre and what a trip to a Shakespeare play in 1600 would be like, a master-class on the poetry style Shakespeare wrote in, and a look at Original Pronunciation (the accent in which Shakespeare would have spoken). Relevant for all ages, it will have wide appeal from younger people experiencing the Bard for the first time through to older audience members who love Shakespeare and want to learn something new.
The second, from 7.30-8.30pm, Shakespeare's Original Pronunciation-as He Heard It, addresses questions posed: "What did Shakespeare's accent - and that of his actors and audience - sound like?"
"What can we learn from hearing and speaking his works in that accent? And with no recordings or transcriptions available to us, how do we know?"
Running Times:
Times are approx. and subject to change at any time.
Doors Open: 5:00pm
Shakespeare on Toast: 6:00pm – 7:00pm
Shakespeare's Original Pronunciation-as He Heard It: 7:30pm – 8:30pm
Tickets are Free - Koha at the door.
Download from Ticketek or visit the Theatre
---
Please make sure you purchase your tickets from our exclusive supplier - Ticketek NZ